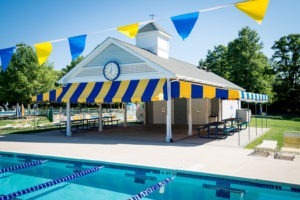 LARCHMONT SWIM CLUB
PARTY INFORMATION
Members and non-members are welcome to have their summer parties with Larchmont!
After Opening Day on May 26th, 2018, all reservations must be in made in person during pool hours.  For parties being held prior to June 30, 2018, reservations will be accepted by phone or email starting May 1, 2018.
Choose between several party locations inside our swim club: 
our awning covered pavilion, our spacious Olympic pool areas or our shady picnic grove.
There are 2 party sessions that are available for each location per day.  The first session is from 11:30 AM to 2:30 PM.  The second session is from 3:30 PM to 6:30 PM.  Please note these times only pertain to the reservation of the party area. 
You are welcome to stay and enjoy the Club's facilities AFTER
 your scheduled party time free of charge!
The Larchmont Swim Club Party Host is responsible for their guests at all times.  Each guest must be familiar with the pool rules.  Guests that are current LSC members will not be charged the party guest fee if they are attending a scheduled party.  However, they will be required to present their Swim Club ID cards upon arrival.  Please indicate on your guest list if someone is already a LSC member.  Only members that have reserved party areas that day can take advantage of the daily party fee.
Guests must wait for the Party host in order to enter the Swim Club.  Anyone attending your Party will be charged the guest fee regardless of whether they are swimming that day or not.  No alcohol, barbecue grills, glass or water balloons are permitted on or around the pool grounds.
The party area rental fee is due upon the Party Host's arrival on the party day along with a completed guest list.  No one from your party will be admitted to the Swim Club until we have received your rental fee and guest list.  Final payment is required one hour after your party has started and all of your guests have arrived.
Member Rental Information:
0 – 15 guests and a party area is $150 and $7 per person for any additional guests after 15.
NON – Member Rental Information:
0 – 15 guests and a party area is $195 and $8 per person for any additional guests after 15.
There will be no refunds given due to inclement weather after the party has started.
Management reserves the right to limit the amount of party guests at any time.
NO DJ's, barbecues or glass bottles.